Equity management and more
Simple and Clear
The all-in-one platform to automate equity management, facilitate fundraising and enhance governance to a simple click process for every company!
Get Started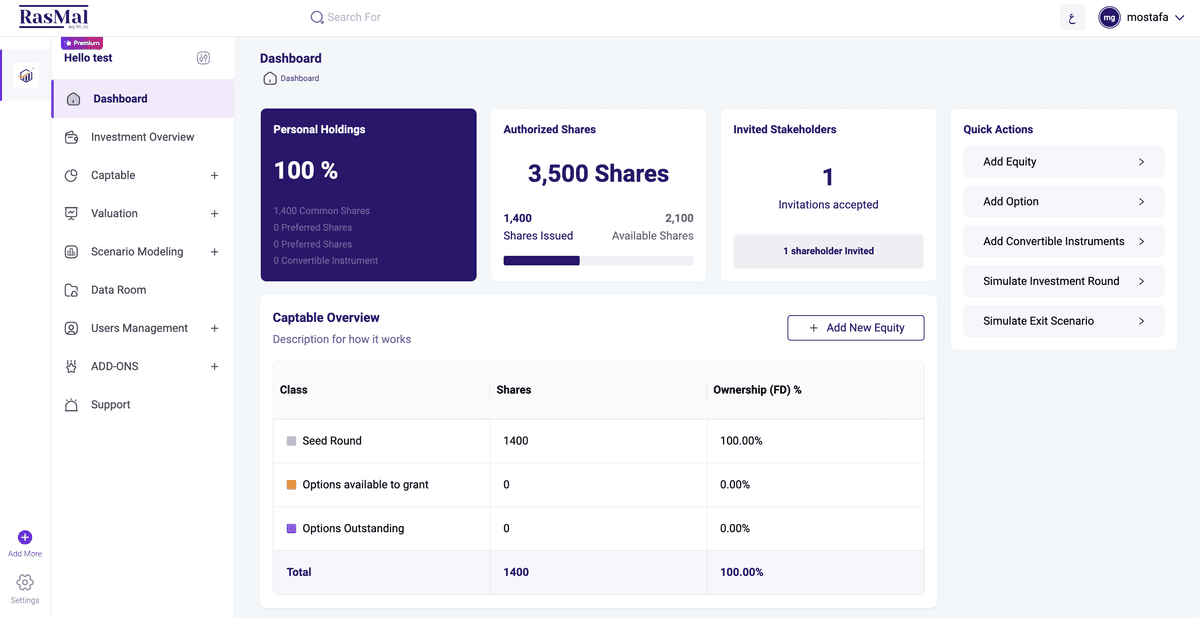 Comprehensive solutions to help your company through its journey towards growth 🚀
Simplify Equity
Issue different types of securities to investors, employees and advisors and maintain a fully automated cap table in a few simple clicks.
Fund raise with the best terms​
Use the simplest input to gain a full understanding of how investment rounds and potential dilution would impact your company's cap table.
Close investment rounds faster
Leverage RasMal's scenario modeling tools to negotiate better terms and streamline the fundraising process with potential investors using our dynamic Data Room.
Tools and Features
We offer a variety of tools and features to match your company's needs and help you focus on growth. Learn more about RasMal's tools and features.
Connect with your investors.
Share accurate, professional and required reports.
Always be prepared! Generate the most vital performance metrics and share reports with your potential investors to facilitate the fundraising process.
Get Started
Protected & Secure data​ 🔒
Your data, your control
You control who can access your data and how. Assign personalized permissions to users and remove them any time.
Best-Practice Security
We constantly improve security programs based on latest industry standards to ensure optimal security for all your files and data.
PDF Watermarks
Ensure the confidentiality of your documents and contracts at a glance through our watermark feature.
SSL/TLS Encrypted
Our website is SSL/TLS certified to keep user data secure and prevent fake cloning of the site.
Growth starts with the right tools!
Try RasMal for free
Get Started